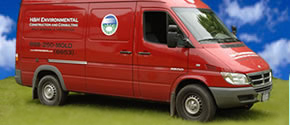 Testimonials
"Kevin was very helpful in providing the necessary information to move forward with our intended project; at this time, we are still awaiting the residence's tenants to vacate completely. When that occurs, we will hopefully proceed with the proposed renovation."
Ravena, NY
Westchester Mold Testing

Think you have a mold problem? If so, then you probably do. Our Certified Mold Inspectors can help you find out for sure. In sufficient quantities, mold spores present a health hazard to humans and animals. Most people are familiar with so-called "black mold" (Stachybotrys chartarum or Stachybotrys atra). The term toxic mold refers to molds that produce mycotoxins. Not all mold that look black is actually Stachybotrys, but the presence of any mold in an occupied home, apartment or office building is bad for human health and should be phycically removed from the location.

Indoor air pollution (IAP) is one of the most serious environmental issues in the United States. Nobody is immune to both the short and long-term effects of indoor air contaminants. Sick Building Syndrome refers to a contaminated building where the occupants suffer from health problems due to poor indoor air quality. The specific illnesses vary, and are hard to pinpoint. There might be an increase in illnesses or respiratory problems, such as asthma.

According to the Mayo Clinic, 90% of all chronic sinus conditions are caused by exposure to mold.

Westchester Mold Inspection

We provide mold inspection and testing services to the following Westchester County municipalities: Ardsley, Armonk, Baldwin Place, Banksville, Bedford, Bedford Hills, Bedford Village, Briarcliff Manor, Bronxville, Buchanan, Chappaqua, Cortlandt, Cortlandt Manor, Crompond, Croton-on-Hudson, Crugers, Dobbs Ferry, Eastchester, Eastview, Edgemont, Elmsford, Fairview, Golden's Bridge, Granite Springs, Greenburgh, Harrison, Hartsdale, Hastings-on-Hudson, Hawthorne, Heritage Hills, Irvington, Jefferson Valley, Katonah, Lake Mohegan, Larchmont, Lewisboro, Lincolndale, Mamaroneck, Millwood, Montrose, Mount Kisco, Mount Pleasant, Mount Vernon, New Castle, New Rochelle, North Castle, North Salem, Ossining, Peach Lake, Peekskill, Pelham, Pelham Manor, Pleasantville, Pocantico Hills, Port Chester, Pound Ridge, Purchase, Rye, Rye Brook, Salem Center, Scarsdale, Scotts Corners, Shenorock, Shrub Oak, Sleepy Hollow, Somers, Somers, South Salem, Tarrytown, Thornwood, Tompkins Corners, Tuckahoe, Valhalla, Verplanck, Vista, Waccabuc, White Plains, Yonkers, Yorktown, Yorktown Heights

H&H Environmental Provides:

Free consultations - Call now!
Complete Westchester mold testing and reports
Westchester mold testing and mildew tests
Westchester mold testing and abatement
Treatments to prevent future mold and mildew growth
Public adjuster services
Direct billing to your insurance company
Written, fully transferable warranty on all jobs
Where can mold grow? Mold growth can appear hidden within walls, ceilings, floors, in attics, basements, crawl spaces, and the even within the ductwork of your heating and cooling equipment. Consider professional testing where:
There are plumbing or water leaks, including roof and basement leaks, sewer backup issues, heating or air conditioning system problems.
Where the inhabitants of the house or building are of a particular risk group. This includes infants, the elderly, asthmatic or those suffering from respiratory problems.
Where there has been extensive water damage or flooding, and you need to know the extent of the damage for insurance purposes.
Suspect that you have a mold problem in your basement, attic or walls? We provide mold testing and remedation services in the Westchester counties of: Fairfield, Litchfield, Hartford and New Haven County.
Put our experience to work for you! We can provide direct billing to your insurance company. Count on a written, fully transferable warranty on all jobs.
We accept all major credit cards.Call us now at
888-250-6653 for a free consultation!
Serving the following zip codes: 12401, 12402, 12404, 12409, 12410, 12411, 12412, 12416, 12417, 12419, 12420, 12428, 12429, 12432, 12433, 12435, 12440, 12441, 12443, 12446, 12448, 12449, 12453, 12456, 12457, 12458, 12461, 12464, 12465, 12466, 12471, 12472, 12475, 12477, 12480, 12481, 12483, 12484, 12486, 12487, 12489, 12490, 12491, 12493, 12494, 12495, 12498, 12515, 12525, 12528, 12542, 12547, 12548, 12561, 12568, 12588, 12589 Westchester mold testing | Westchester mold testing services